Novellas and short stories--This was the year of a wonderful assortment of both of these types of books and I was blessed to have published both a short story and a novella myself!!!

Here are my favorites for 2013

Short Stories
A Cup of Christmas Cheer collection--All the stories were wonderful. Carla Gade's story particularly moved me because it is set in Michigan's upper peninsula. It was also beautifully done. I enjoyed ALL of them!!! Very blessed to be in the company of Susan Page Davis, Julie Carobini, Johnnie Alexander Donley, Anita Mae Draper, Carla Gade, Ginger Kolbolba, Pam Andrews Hanson, Jennifer Collins Johnson, Ashley Clark, Jenness Walker, Marilyn Turk, Linda Clare.
A Cup of Christmas Cheer (Guideposts)
Heaven is Not Far by Marian
Safe House by Kathi Macias, great short story. Sorry no pic yet!
A Pioneer Christmas Collection
NOVELLAS
Kathy Maher
's "
Bachelor Buttons
" Civil War was a beautiful debut novella--she has a gorgeous lyrical voice and is an amazing story teller! My favorite historical (with strong romantic elements!) novella.
Kathleen L. Maher's "Bachelor Buttons"
Melissa Jagear's novella (Bethany) was my favorite romance novella with bibliotherapy element (dyslexia/reading disorder) so of course I loved that!
Love by the Letter by Melissa Jagears
Available
FREE on Kindle
!!!
Deeanne Gist's
Tempest in the White City
--great novella!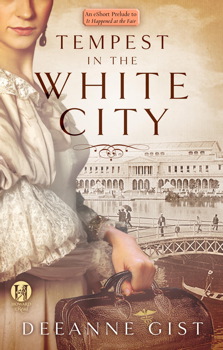 Tempest in the White City by Deeanne Gist
GIVEAWAY: Kathy Maher's paperback or ebook to one winner. Pioneer Christmas collection to a second winner. Answer the question--What was your favorite short story or novella for 2013?